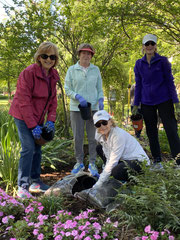 The gardens at Terry Mansion are a continuing project for the Little Rock Garden Club working in conjunction with the Little Rock Parks Department and the Arkansas Arts Museum. 
LRGC members actively garden the Terry Mansion grounds as volunteers on a weekly basis. Members change out the flower beds seasonally, maintain the planting beds, and take care of general garden maintenance. The grounds received the City Beautiful Award in 1997.  
In 2000 LRGC, with the cooperation of the City of Little Rock, established a Butterfly Garden on the grounds of the Terry Mansion. For the last twenty years, the garden was beautifully maintained and enhanced through the hard work of countless LRGC members. In 2020 a grant was submitted for LRGC by The Pulaski County Conservation District to add Arkansas native plants, label them and provide a maintenance guide.  A sprinkler system upgrade was also included.   In August of 2020, LRGC was awarded funding from the Arkansas Department of Agriculture with matching funds from the Pulaski County Conservation District. The volunteer value of LRGC members on planting day were an assist toward the required match.  On May 13 2021, TWENTY members, including affiliates, planted 23 varieties of native plants for a total of 95 plants.   These plants are currently small, but will multiply and spread to provide nectar for all pollinators.  Holly Anderson wrote the grant, chose natives most beneficial for Terry, travelled with us to Pine Ridge Gardens for pickup and guided the placement and planting on May 13.  Thank you, Holly, and thank you to all members for your dedication to the Butterfly Garden and your help in insuring there is a haven for pollinators in downtown Little Rock.  A great way to celebrate and commemorate 21 years of dedication to the vulnerable population of butterflies, bees and all creatures who provide us with their service and beauty.  Hopefully, a plaque to honor the cooperation with the state, city, county and LRGC can mark this milestone of 20+ years of dedication. 
Brochures on the Butterfly Garden and Urban Arboretum are available to the public. A pdf version of the Urban Arboretum map and brochure are available by clicking here.