Remarks made by LRGC President Becky Scott
at the September 10, 2017
 "RB Monument" dedication ceremony
 Welcome everyone to this beautiful day celebrating a gift to our City!
I am Becky Scott, the current President of the LRGC and I am honored to represent our club and so many who made this happen.
Since 1923 our club's mission has been to educate, enhance and improve the quality & beauty of our community by encouraging the knowledge and practice of horticulture by our citizens.
Our commitments over the years have contributed to the Dunbar Community Garden, Terry Garden & Arboretum, Arkansas Arts Center, Audubon Arkansas, Historical Arkansas Museum, Central Arkansas Library, Governor's Mansion, Habitat for Humanity, Hillcrest Hall, Mount Holly Cemetery, the Old Statehouse, Pulaski County Courthouse Garden, MacArthur Park, the River Walk Trail and the UAMS Healing Garden.
I want to thank those who spearheaded efforts for public art:
From then President, Cathy Crass with Ben Hussman Chairman of our Civic Contributions Committee, came a recommendation to give a meaningful piece of art to the city.
Barbara Hoover/Jane Rogers and their Public Art Committee of:
Susan Brainard, Helen Porter, Lisenne Rockefeller, Cindy Simpson,
were challenged with finding a piece that would encourage interaction & enjoyment.
We are pleased to support the City of Little Rock and its efforts in using "public art to make our community a better place".  "RB Monument" by renowned sculptor, Dan Ostermiller, will enhance our city knowing that people will enjoy interacting with our "Robust Bunny"!  Mr. Ostermiller's work is in the permanent collection at Crystal Bridges Museum and across the United States.
On behalf of the Little Rock Garden Club, I ask our city representatives, Kathy Webb and Dean Kumpuris to unveil our gift.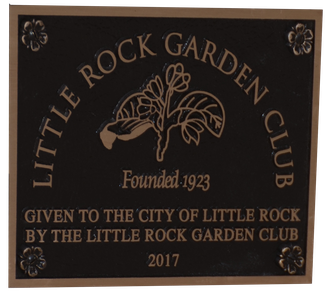 Photos compliments of Gladys Whitney